Why Do You Like Pomegranates? Tell Us All About It!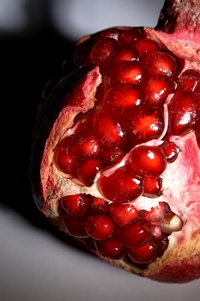 Is it the juiciness of the seeds?
Is it their deep rich color?
Perhaps you love them because they're full of flavor or add something special to your favorite dish, yes?
It could be that you love to use pomegranates to decorate your home for the holidays! There are so many ways to use them in the home for every day too.
Have you tried pomegranate arils in a new recipe recently? If you've tried them in a breakfast, lunch, or dinner entrée, please share with us what you thought of the results. Have you tried the seeds of the pomegranate fruit in desserts? We'd love to hear about it!
Do you feel like a child again when you bite into the pomegranate seeds and feel the juice explode on your tongue and against your cheeks? They're fun to eat, aren't they?
Maybe the reasons why you love pomegranates have little to do with the look of the fruit or even the taste of the fruit.
It could be that you've experienced a boost in your immune system or have seen your health take a turn for the better because you've started eating pomegranate fruit or drinking the juice.
Does the flavor or sight of pomegranates spark any special memories for you? It could be that your grandparents grew them on their land or served up a special dish or dessert using this delicious fruit.
Your story is important to us! We'd love to hear the reasons you love pomegranate fruit! Won't you share them with us so we can share your experience and first-hand experiences with others too?
Let us know what it is you love most about this amazing, tangy, beautiful, delicious fruit and we'll create a page on our site using your submission! How exciting would that be?
Share your story with us!
Let us know what it is you love most about this amazing, tangy, beautiful, delicious fruit!
What Other Visitors Have Said
Other visitors to this page...

Mrs. C

I have loved pomegranates since I was little and my papaw would open them for me. He had a couple bushes, as well as blueberry bushes, pecan trees, and …
---
Read enough about why do you like pomegranates and want to discover more about pomegranate the healthy fruit?
Amazing Pomegranate Health Benefits