Angel Red Pomegranate – One of the Best!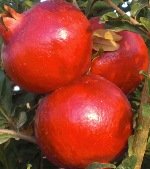 The Angel Red pomegranate variety is relatively new on the market, but is already considered one of the best pomegranate fruits for making grenadine. This medium sized pomegranate is a beautiful red on the outside and has some of the juiciest seeds of any fruit on the inside.
Why is This Red Pomegranate Unique?
The Angel variety of pomegranate fruit has seeds that are so soft; they can be eaten without worrying about removing the outer shell. This unique quality makes this variety of pomegranates very attractive to those who enjoy simply eating the seeds with salads or on yogurt.
In addition, many people are quickly discovering that the grenadine made at home from these deliciously sweet angel pomegranate seeds is top notch compared to grenadine made from other varieties of pomegranate fruit. It's also popular for use in a number of mixed drinks.
When Does It Mature?
The Angel pomegranate fruit is excellent for those who desire a heavy crop of fruit in the fall. This variety grows into bushes, but if you prefer a fruit "tree", the branches can easily be pruned into what would appear to be a pomegranate fruit tree instead of a bush. This pomegranate variety matures in the early weeks of September. You'll know it's getting close to ripening as it turns a deep, vivid red color.
One important note for those who grow their own pomegranate fruit bushes or trees is that the Angel pomegranate seeds cannot germinate. Because this variety is a hybrid, the seeds are sterile, which means they cannot reproduce new bushes each year. Simply plan to plant new seeds each year if desired.
It's possible for this variety of pomegranate to produce fruit the very first year if you purchase a fruit bearing tree and the plant is well cared for and nurtured properly.
During the fall holidays, especially Thanksgiving, the Angel pomegranate is popular for decorating holiday tables and as centerpieces. They can often be found in Eastern grocery stores because they can be shipped across the country without worry of spoilage.
Where Are the Angel Red Pomegranate Bushes Found?
There are only a few nurseries online who offer this variety of pomegranate fruit plant, but it's possible that if you talked to your local nursery, they might consider ordering a few for you. It never hurts to ask!
Perhaps this will be the year that you try your hand at buying and growing your very own pomegranate fruit bushes. If you do, you'll be able to enjoy the fruits of your labor when September arrives and you can walk into your backyard and pick your very own Angel Red pomegranate fruit!
---
Read enough about the red pomegranate and want to discover more about this healthy fruit?
Amazing Pomegranate Health Benefits