Pomegranate Seeds – Fun and Interesting Facts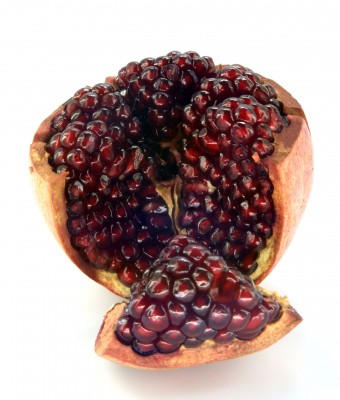 Do you know how many pomegranate seeds are contained in a single fruit? Prepare to be amazed! Although the numbers seem to vary a bit depending on whom you talk to, there are anywhere between 613 and 840 juicy seeds packed within a single pomegranate fruit! When you hold one of these fruits in your hand, it doesn't seem possible that that many seeds could be inside, but once you open it up and see how they are arranged inside, it's pretty clear how they all fit.
Here are some other fun and interesting facts about the seeds that you may not know.
Pomegranate fruit seeds are also called "arils"


They're bright red in color


Depending on ripeness, the seeds can be very sweet or very tart (make your lips pucker!)


The seeds of the pomegranate are packed compactly in and around pockets of pulp inside the fruit


There are multiple compartments of seeds within each pomegranate fruit – each fruit is unique


The number of seeds contained in a fruit is not necessarily proportionate to the size of the pomegranate fruit


These juicy seeds or arils are bursting with tangy flavor and can be eating plain, or tossed into several recipes for a unique and healthy dish


The seeds of a pomegranate fruit can be very soft or more on the crunchy side, depending on the variety of fruit bush/tree


The juice inside the seeds of a pomegranate will stain – everything!


You can make fresh pomegranate juice from the seeds right in your own kitchen
Pomegranate fruit seeds are delicious in just about every type of food dish and can be made into many different beverages (or added to them) for a unique and delicious tasting recipe.
---
Read enough about pomegranate seeds and want to discover more about this healthy fruit?
Amazing Pomegranate Health Benefits