Pomegranate Juice and Hypertensive Medications May Work Together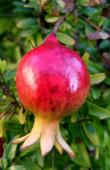 Taking pomegranate juice and hypertensive medications together is possible, but it's important to note that there is a slight risk of a negative interaction occurring. The research regarding pomegranate juice and hypertensive medications is still in infant stages (more needs to be done), but the initial results indicate that it may be possible to take both and regulate high blood pressure levels effectively.
Many people ask whether or not pomegranate juice reacts in the same way as grapefruit juice when it comes to medications. Grapefruit juice is well known for negative interaction with some prescription medications and should be avoided on the advice of your physician.
A Multifaceted Approach to High Blood Pressure
The research done to date places pomegranate juice at the bottom of the list as far as risk when taken with medications that are supposed to control high blood pressure.
High blood pressure must be brought down to normal levels and then controlled by a number of factors including diet, stress levels, stress reduction techniques, and medications. Treatment of high blood pressure is also based on a person's genetic history, medical history, and any other medical conditions they may be experiencing.
To that end, physicians realize that a complex approach is required in order to control blood pressure levels and help patients realize a healthier lifestyle. In addition to medications, the proper nutrition is an integral part of getting blood pressure levels down into a safe range.
Research Regarding Pomegranate Juice and Hypertensive Medications
Researchers have, in the last few years, discovered that there are three specific nutrients that seem to be able to help control high blood pressure along with hypertension medications.
The three nutrients are:
Casein peptide


Grape seed extract


Pomegranate extract
We'll focus of course on the pomegranate extract, but it's important to note that all three of the nutrients listed contain powerful compounds and antioxidants that reduce the risk and occurrence of oxidative stress damage sustained to the blood vessels and arteries as a result of high blood pressure. Because of the specific antioxidants and compounds in pomegranates, taking pomegranate juice and hypertensive medications together just might be the answer for some patients with high blood pressure.
Research in this area of juice and medications also showed that the systolic blood pressure of patients with high blood pressure reduced that number in a mere fourteen days by drinking pomegranate juice daily.
A Few Important Notes on Pomegranate Juice and Hypertensive Medications
No matter what medications you are taking or what nutritional steps you're taking to control your blood pressure, you should always continue monitoring your blood pressure several times a day.
If you are aware of an allergy to the pomegranate fruit or the juice of a pomegranate, let your physician know prior to taking a recommendation for drinking or eating the fruit.
Pomegranate juice is an amazingly delicious way to possibly help reduce your high blood pressure, fight cancer, reduce your risk for heart disease, and many other medical conditions. Once you've spoken to your physician, why not consider adding some of this tangy juice to your daily diet? It can only help you to be healthier and feel better!
---
Read enough about pomegranate juice and hypertensive medications and want to discover other benefits of pomegranate juice?

Amazing Pomegranate Health Benefits