Pomegranate in Islam Speaks to Well Being
Pomegranate in Islam is as symbol, it seems, of harvest, wealth, and wellness. The writings of the Quran refer to the fruit in three different instances and each time it gives you the sense that it's talking about a great harvest, land of plenty, and being good stewards of what has been provided.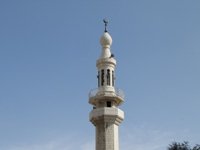 The Islamic people believe in a man called Muhammad. Hadith, a term used in Islam, refers to Muhammed's actions or views, whether positive or negative, in regards to anything done or said while in his presence. Hadith mentions the pomegranate a few times in addition to the references seen in the Quran.
One Hadith reference indicates that this fruit and the skin of the fruit are healthy for the stomach, making it stronger. The other mention refers to the fruit as if it's somehow a holy fruit because it is believed by Islamic people to come from the Garden of Jannah. Another Hadith says that if you eat the fruit, you will be cleansed of evil desires and Satan for forty days.
A well respected and learned man named Sayyiduna Ali referred to the pomegranate in Islam, saying that "the light of Allah is in the heart of whoever eats pomegranate". His sayings are taught in the religion of Islam still today.
Pomegranate in Islam and in Dreams
Some believe that when this fruit is seen in a dream, it has great symbolism. What does it mean to have a pomegranate in your dreams? It is said that it could mean the following.
Eating a sour fruit – represents your worries or means that difficult times are coming your way; grief will be yours soon; it could also indicate that the money you obtained is from less-than-honest methods
Eating a sweet fruit – means that the person dreaming the dream has gained a lot of money or fortune, will gain a woman or wife, or is promised a son in the future
Eating peel of the pom fruit – the dreamer will be healed of his disease
Dreaming of the tree – indicates that you are a person who is successful in business and is respected in his community
Selling a pomegranate – the dreamer has decided to enjoy the fruits of the present world rather than trying to earn his way to something better after death
Pomegranate in a dream – could indicate you're about to go on a journey or that you're fearful of something
Harvesting a fruit with red seeds – the dreamer will come into a lot of cash or gold
Dreaming of the juice – pressing the juice from the fruit and drinking the pressed juice supposedly indicates what the person dreaming spends (money) on himself
A healthy, freshly picked fruit – represents a beautiful and youthful virgin
Rotten fruit – represents a woman without morals and who is unchaste
Fruit broken in half – can represent a widow, a woman who is divorced, or a girl who has had her innocence taken from her without her permission
Harvesting fruit with white seeds – the dreamer will obtain a little bit of cash or gold
The thorns of the pomegranate tree represent sins or the things that keep a person from choosing sin over doing the right thing
A dreamer who is in a place of authority – dreaming about this fruit could represent the city over which he governs. A broken fruit means he will conquer the city.
Skin of the fruit – represents the walls of a city
Juice of the fruit – represents the wealth, industry, and overall resources of a city
Seeds of the pomegranate – refers to the people within a city
Cutting down a pomegranate fruit tree – indicates you have chosen to ignore your family, sever familial ties, or decided to neglect your responsibility to them
Pomegranate in Islam is an integrated part of their culture and belief system.
---
Read enough about pomegranate in Islam and want to discover more about pomegranate in religion and mythology?

Amazing Pomegranate Health Benefits