Pomegranate Poached Pears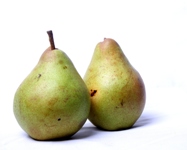 3 pears peeled and cut


1 cup pomegranate juice


1/4 cup sugar
Put the pears, juice and sugar in a pot making sure the pears are completely covered (add more juice and sugar if need be).

Bring the mixture to a boil and on a lower flame wait for it to simmer.

Cover with a lid slightly opened and cook for 20 minutes or until the pears are firm but no longer crunchy.

Serve with a scoop of ice cream or by themselves, doused in the cooked liquid.
---
Read enough about poached pears and want to discover more pomegranate recipes?
Amazing Pomegranate Health Benefits