Learn How to Make Pomegranate Juice Easily in Your Own Kitchen
It's not difficult to learn how to make pomegranate juice easily in the comfort of your own kitchen. You'll save money by making your own freshly squeezed juice and you'll enjoy the tart flavor even more because you've made it yourself. And, this way, you're guaranteed that there's nothing else added to the juice (preservatives, etc.).
You'll want to wear an apron to protect your clothing while you make your juice, as the process is a bit messy. But, believe me, the results are well worth it!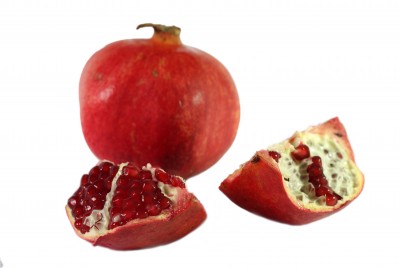 Gather together your pomegranates, food processor, a large bowl filled with water, a sharp knife, a mesh strainer, and a drinking pitcher. You'll have pomegranate juice in minutes using this method. Once you learn how to make pomegranate juice easily in your own home, you can teach family and friends to do the same in their own home.
How To Make Pomegranate Juice Easily

Slice the pomegranate in half like you would an orange.


Submerge the pomegranate under the water.


Remove the seeds from the inside of the pomegranate. The seed peel and membrane will float to the top and the seeds will drop to the bottom of the bowl.


Remove the pulp (membrane) and seed peels from the bowl.


Now, take the peeled seeds and place them into a food processor or blender. Pulse until the seeds are well pulverized.


Place the mesh strainer over a clean bowl. Pour the mixture over the strainer. To get the rest of the juice from the seeds, press them through the strainer by hand until all of the juice has been extracted.


Pour the freshly squeezed pomegranate juice into a drinking pitcher.


If you prefer, add your choice of sugar to the freshly squeezed juice so that it is a bit less tart. A general guideline is to add 1/3 cup of sugar to 1½ cups of pomegranate juice.
One of the nicest things about learning how to make juice easily and quickly is that you can enjoy fresh pomegranate juice each and every day without making a trip to the grocery store.
Fresh juice can be frozen in glass bottles and enjoyed later as juice or added to recipes. Frozen juice can be kept for up to one year (even without preservatives).
Do not store the juice in plastic containers of any kind due to
the potential hazards associated with plastic and cancer.
The remaining seeds can be used to make jam or jelly or simply enjoyed right then and there. Pomegranate juice made at home is beneficial to your health because it is directly from the pomegranate seeds that are packed with antioxidants, minerals, and vitamins. Drinking just a mere 8 ounces a day of fresh juice could make the difference between mediocre health and excellent health.
Give it a try today! Once you discover how to make pomegranate juice easily in your home, you'll be inclined to make it fresh every day for yourself and for your family.
---
Read enough about how to make pomegranate juice and want to discover other benefits of pomegranate juice?

Amazing Pomegranate Health Benefits