Pomegranate Jelly Recipes for The Perfect Topping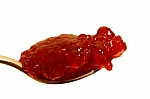 Pomegranate jelly recipes have a tangy yet sweet taste, made from the juice of the pomegranate fruit. Jelly is preferred by those who prefer not to have bits of fruit in their spreads, but just because pomegranate jelly doesn't have bits of fruit doesn't mean that the taste isn't out of this world!
You can make pomegranate jelly right in your own kitchen in much the same way you make other fruit jellies. The preparation of the seeds is probably the most labor-intensive part of the whole process, but trusts us when we say that the results are well worth all of your hard work!
Enjoy the exotic taste of these pomegranate jellies on your favorite bread or bagel. Or, use the jelly to add delicious flavor and color to main meals or dessert recipes. Don't forget about adding a few pomegranate seeds whole in addition to pomegranate jelly on your waffles or pancakes!
Pomegranate Orange and Grapefruit Jelly one of the Homemade Jelly Recipes
2 lb pomegranates


1 large grapefruit


1 large orange


2 lemons


1 cup sugar


1 1/4 cups water

Pour pomegranates, grapefruit and orange juice into the bowl.

Add the zest of 1 lemon and juice from both lemons to the other ingredients.

Set the bowl in the refrigerator for up to 8 hours.

You should end up with about 1-1/3 cups of juice remove fruit that remains.

Put sugar in a baking pan and warm in a 250°F/121°C oven.

Bring juices and water to a boil over medium flame and simmer for 15 minutes.

Add the warmed sugar and stir in until it dissolves.

Then bring to a boil and cook for about 15 minutes.

Add mixture to jars and seal.
Yields seven 8 oz. jars.
Lemon Jelly
3 1/2 cups pomegranate juice (from about 6 pomegranates)


1/4 cup lemon juice


5 cups sugar

Mix pomegranate juice and lemon juice together.

Boil together on high flame.

Add in sugar, stir and boil for a minute.

Remove from heat.

Put into jars and seal. (be careful not to get burned it is very hot).
Image: Suat Eman / FreeDigitalPhotos.net
Image: Darren Robertson / FreeDigitalPhotos.net
---
Read enough about jelly recipes and want to discover more pomegranate recipes?
Amazing Pomegranate Health Benefits