Pomegranate Homemade Salad Dressing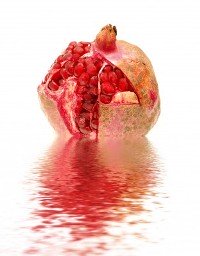 Pomegranate homemade salad dressing delivers all of the sweet and tart taste that a salad dressing should, but it doesn't load you up with calories and unnecessary carbohydrates. Instead, the recipes we have showcased for making pomegranate dressing for salad is low in fat, low in calories, and have lower carbohydrate levels than most other salad dressings. However, the dressings made from fresh pomegranate juice taste better than anything you can buy at the store!
You'll love how this dressing tastes over dark leafy mixed greens, but you'll also love that you can use it drizzled over a main meal or as a side to cut up vegetables. It's the perfect accompaniment to shrimp, salmon, and lots of other seafood. Toss the fresh pomegranate seeds over the top of any salad or main meal, and voila, you have a beautifully appetizing presentation.Pomegranate dressing for salad is easy to mix up at home using either bottled juice or freshly squeezed juice along with just a few other ingredients that you probably already have in your pantry. Enjoy these recipes and be sure to send us any variations that you try and find to be delicious!
Yield: 1/2 cup

Sweet Salad Dressing
4 teaspoons water


1/4 teaspoon salt


4 tablespoons olive oil

Pomegranate molasses:
4 cups pomegranate juice


1/2 cup sugar


1/4 cup lemon juice


2 teaspoons honey
2 tablespoons pomegranate molasses
Mix together and pour over any salad.
Image: africa / FreeDigitalPhotos.net
---
Read enough about pomegranate homemade salad dressing and want to discover more pomegranate recipes?

Amazing Pomegranate Health Benefits