Healthy Diet for Teenagers – Pomegranate Fruit and Veggies Perfect Snacks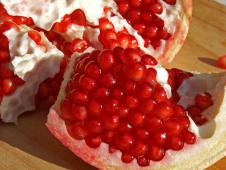 The teen years are some of the busiest of all and require a healthy diet for teenagers to keep up their strength and focus on their schoolwork. Teens are always in motion it seems what with classes, football games, hanging out with friends, part-time jobs, and running from here to there until they collapse in bed each night, what could we do to keep a healthy diet for teenagers?
How can they keep up their strength? Teens need to focus on eating a healthy diet of foods that have high calorie counts, but also have nutrients, vitamins, and antioxidants that will give the body what it needs to keep going. Foods like whole grains, fruits and vegetables, lean proteins, and good fats are what will give active teens their much-needed energy.
It's easy for teenagers to ignore healthy eating habits, so it's vital that parents model the right eating habits for their teens at home. Here are some good guidelines for modeling a healthy diet for teenagers.
Guidelines for a Teenager and Healthy Eating Habits
Eat breakfast, each and every day – it truly is the most important meal of the day! The right breakfast jump-starts your metabolism and helps to maintain your energy the rest of the day. Opt for a lean protein, whole grain carbohydrate, and fruit.


Lunch – if possible, send along a packed lunch with your teen. Alas, most parents know that most teens would be mortified if you handed them a brown bag for lunch, so educate your teen about the healthier choices available at the school cafeteria.


Snacks – snacks are an excellent way to include some healthy choices in a teenagers' day. They're always hungry, right? Send along some pomegranate fruit seeds, apples, or grapes for a quick and easy-to-eat snack between school and dinner.


Dinner – sit down together for dinner whenever you can, even if it's on a blanket at the stadium before track or band practice. Teenagers who see their parents taking the time to eat foods that are good for them are more likely to follow suit both during the teen years and as they grow into adults..


Dessert – fruit is dessert too! Instead of a sugar-laden dessert, try something with fewer calories and add fruit to it. Frozen yogurt sprinkled with pomegranate seeds or fresh fruit of your liking is an excellent substitute for ice cream with chocolate sauce. Angel food cake sprinkled with strawberries and a dollop of light whipped cream is much healthier than chocolate cake and fudge sauce..


Calorie Counts for Teenagers
Teenagers do require a bit more energy than younger children and some adults. Teenage girls should shoot for around 1,800 to 2,100 calories each day. Teenage boys seem to be bottomless pits, don't they? A good range of calorie intake for teen boys is somewhere between 2,200 to 2,700 calories per day.
Work now to set healthy eating guidelines for your teenagers and you'll set them on the right track for a lifetime of good eating habits!
---
Read enough about healthy diet for teenagers and want to discover more about the fruit diets?
Amazing Pomegranate Health Benefits