Easy Fruit Salad Made with Pineapple and Pomegranates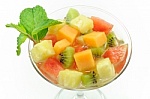 2 cup pineapple juice


2 kiwi fruit


8 Strawberries sliced in half


2 cups grapes sliced in half


2 cups melon cut up into small pieces


2 tangerine cut up in small pieces


seeds from 2 pomegranates

Place all the fruit in a big bowl.

You can refrigerate the fruit salad.

Before serving pour some pineapple juice on the fruit and for garnish add pomegranate seeds.

Mix until combined evenly.
Image: paytai / FreeDigitalPhotos.net
---
Read enough about easy fruit salad and want to discover more pomegranate recipes?