Drink Pomegranate Juice to Protect your Teeth from Dental Plaque and Gum Disease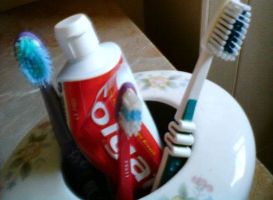 New research shows drinking pomegranate juice to protect your teeth from dental plaque could be a tasty and healthy way to promote long-term dental health. It's exciting to note that early research shows that pomegranate juice is beneficial rather than damaging to our teeth. Everything should be consumed in moderation of course, but adding the juice of a pomegranate to your daily regime may translate into a lot less time sitting in the dentist's chair. Doesn't that sound great?
What Does the Research Say About Protecting Your Teeth with Pomegranate Juice?
A group of Thai researchers discovered that by drinking pomegranate juice, you'd fight the ugly, damaging plaque that naturally builds up on your teeth. Dental plaque consists of microorganisms that wreak havoc on our teeth and gums if it isn't controlled with proper and consistent dental hygiene habits. Plaque, when uncontrolled, can cause what is called periodontal disease, a severe gum disease.
Here is what the initial study results indicated:
Pomegranate extract was effective in helping to eliminate dental plaque


Mouthwash containing pomegranate juice effectively reduced the amount of microorganisms in the mouth and on the teeth


Pomegranate juice contains antiviral and antibacterial properties which help fight the build up of dental plaque
More Exciting News About Protecting Your Teeth with Pomegranate Juice
The same group of Thai researchers conducted another aspect of the study as well. They found that pomegranate extracts, when combined with the extract from an herb called gotu kola, are effective for enhancing the process of healing for gums that are affected by disease. The researchers discovered this connection between pomegranate extracts and the positive effect on diseased gums during this study. In an effort to see if the extracts of pomegranate and gotu kola could make a difference deep inside the gum and the root of the tooth, they filled tiny chips with both extracts and then inserted the chips in the open area between the gum and tooth root. They discovered that the gum and the tooth attached more quickly and were healthier with the addition of the extracts.
So, Should You Drink Pomegranate Juice for Your Teeth's Health?
We all love a beautiful smile! Maintaining a clean, healthy, and beautiful smile (and mouth) involve excellent dental hygiene habits for certain. You must brush and floss at least three times a day. However, the fact that dental plaque is inhibited by drinking pomegranate juice it would make sense to add this juice to your list of daily hygiene habits.
Interestingly, the health of our teeth can actually be tied to the overall health of our body. Pomegranates contain healthy amounts of calcium, so we benefit our teeth and our bones by drinking it regularly. Scientists have proven that there is a link between periodontal disease and the increased risk of heart disease (due to the constant inflammation that accompanies the periodontal disease). So, not only does drinking pomegranate juice make sense for keeping your teeth healthy, it is great for reducing your risk of developing heart disease as well.
---
Read enough about dental plaque and want to discover other health benefits of pomegranate juice?
Amazing Pomegranate Health Benefits