Pomegranate Banana Dessert
Prep Time: 30 minutes.
Freezing Time: 4 hours.
Yields 4.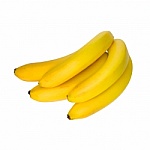 Juice from 2-3 large pomegranates


2 cup seeds from 1 large pomegranate


3 ripe bananas

2 cup simple syrup:
4 cup granulated sugar


2 cup water


mix together until sugar dissolves
Cool to room temperature before use
4 plastic freezer cups


4 plastic spoons
Put all ingredients except the seeds in a food processor and process until smooth.

Stir in seeds.

Divide mixture evenly among the cups and freeze slightly.

Insert a plastic spoon into the center of each cup to be used as a stick.

Freeze until solid.
---
Read enough about banana dessert and want to discover more pomegranate recipes?
Amazing Pomegranate Health Benefits