Pomegranate Baked Salmon Recipe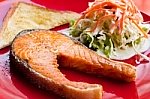 Prep Time: 5 minutes
Cook Time: 10 minutes
Yield: 4 servings
1 pound/ 0.45 kilo center-cut salmon fillet, skin removed


1 tablespoon olive oil


1/2 teaspoon salt


1 cup pomegranate juice


2 tablespoons sugar


2 tablespoons vinegar
Preheat oven to 400°F./ 204°C.

Place salmon on foil-lined baking pan.

Brush with oil.

Sprinkle evenly with salt.

Bake 10 minutes or until fish flakes easily with a fork.

Meanwhile, mix pomegranate juice, sugar, and vinegar in pan and bring to a boil.

Boil 8 to 10 minutes or until reduced to about 1/3 cup.

Spoon sauce over salmon to serve.
Image: satit_srihin / FreeDigitalPhotos.net
---
Read enough about baked salmon recipe and want to discover more pomegranate recipes?
Amazing Pomegranate Health Benefits