Baked Fish Recipe with Pomegranate Sauce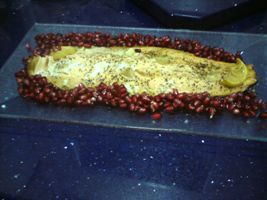 Prep Time: 15 minutes
Cook Time: 35-50 minutes
Yield: 16 servings
Baked Fish Recipe
3 to 4 pounds/1.8 kilo whole salmon


salt to taste


black pepper to taste


5 tablespoons vegetable oil


About 1 cup pomegranate sauce :
juice from 4 to 5 medium pomegranates (about 8 ounces each)


2 tablespoons minced onion


2 tablespoons chopped fresh basil


2 tablespoons chopped fresh coriander


1 clove garlic, minced
Boil the pomegranate juice until reduced almost by half.
Add the onion, basil, coriander, and garlic. Let cool.

1/4 cup pomegranate seeds or chopped fresh parsley for garnish
Preheat the oven to 375-degrees F. / 190 C.

Set aside a baking dish large enough to fit the fish.

Sprinkle the fish with the salt and pepper and place in the baking dish.

Drizzle with the butter or oil.

Add enough water to almost cover the fish.

Place in the oven and poach, basting occasionally, until tender, about 35 minutes for 3 pounds, about 50 minutes for 4 pounds.

Transfer the fish to a serving platter and drizzle with the pomegranate sauce.

Garnish with the pomegranate seeds.
---
Read enough about baked fish recipe with pomegranate sauce and want to discover more pomegranate recipes?

Amazing Pomegranate Health Benefits