Apple Pear Salad with Pomegranates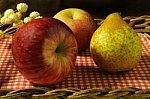 Seeds of 1.5 pomegranates


1 apple, diced


1 pear, diced


1 head of leaf lettuce


1 stick of celery, chopped


3 tablespoons of orange juice


2 tablespoon of honey
Directions:
Chop the apple, pear and celery and mix together.

Arrange pomegranate seeds on top.

Mix together orange juice and honey and spread evenly on the salad.

Mix together citrus juice, honey.

Mix pomegranate seeds, apples, pears and celery in a large bowl.

Mix orange juice and honey in a small bowl and put together with a fork.

Sprinkle dressing on the salad and pour out before serving.
Image: Carlos Porto / FreeDigitalPhotos.net
---
Read enough about apple pear salad and want to discover more pomegranate recipes?
Amazing Pomegranate Health Benefits